Pain is generally described as severe (tearing pain) and of maximum severity at onset. It often radiates to the back or will follow the course of the dissection with its radiation, i.e., dissection of the distal aorta will radiate down to the abdomen.
What are the classic physical findings?
There are many clues in the physical examination that enable the diagnosis of aortic dissection to be made. The blood pressure is often elevated, as this disease is associated with hypertension. However, patients can present in shock if the dissection is large. Other physical findings are the result of the dissection itself, mainly pulse deficit, aortic insufficiency, or neurologic manifestation associated with carotid artery occlusion. Aortic regurgitation is present in over 50% of patients.
What is the best available laboratory test for detecting aortic dissection?
There is some controversy as to the best test for the detection of aortic dissection. Frequently, the dissection will be apparent on chest x-ray; it is imperative to obtain adequate upright posteroanterior and lateral chest views in patients.
More specialized tests that will aid the diagnoses include computed tomography (CT), magnetic resonance imaging (MRI), transesophageal echocardiography, and arteriography. MRI and transesophageal echocardiography are the best tests for detection. The sensitivity and specificity for both are over 90%. If MRI is available, it is the better test for detection, but one must keep in mind that the patient must be put into a large magnet and it is difficult to follow such patients carefully. Transesophageal echocardiography is performed with a cardiologist in close proximity; it does provide information regarding left ventricular function and aortic insufficiency which is not as readily obtainable from an MRI scan.
What is appropriate initial therapy for patients with suspected aortic dissection?
All patients should be admitted to the intensive care unit for close monitoring. Initial therapy should consist of (1) lowering the blood pressure in hypertensive patients, and (2) decreasing the rate of change in aortic pressure. Blood pressure is best lowered with an intravenous effusion of sodium nitroprusside. The change in aortic pressure should be lowered with intravenous beta blockers (i.e., metoprolol or propranolol). These two maneuvers will help decrease extension of the dissection.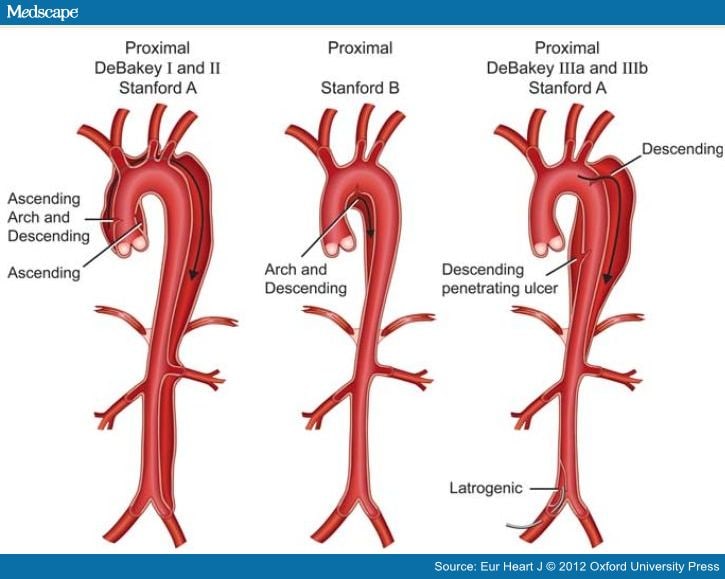 Maybe You Like Them Too